Sunderland Harriers is an inclusive club that warmly welcomes individuals of all ages starting from nine years old, regardless of their gender or skill level. Our club has a rich history of athletic success, but we are not an elitist organization. Regardless of the type of athletics you wish to participate in, you will train with people who have a similar level of skill. We encourage everyone to strive for their personal best while supporting each other throughout the journey.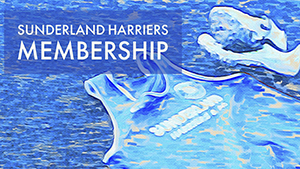 Becoming a member is simple. You can join us at the Sunderland Sports Complex athletics track on Tuesday and Thursday evenings (18:25 - 20:00) and Sunday mornings (10:25 - Noon). Our experienced coaches will lead distance groups on the pathways of Sunderland or local cross-country routes during the same time slots. As a member, you will have the opportunity to participate in various track and field, road, and cross-country events throughout the year.
Our younger members receive comprehensive training in all aspects of athletics, with an equal emphasis on attitude, commitment, perseverance, and respect for others in a FUNdamental environment.
In light of the current times, we all seek to pursue a healthy lifestyle. Joining Sunderland Harriers is an excellent way to meet new people, make new friends, and improve your fitness for life.
How Much Will Membership Cost?
NEW Membership
Under 20 years old..................£65/year
In full time education...............£65/year
Not employed............................£65/year
Seniors....................................£80/year
Membership Renewal
Under 20 years old..................£50/year
In full time education...............£50/year
Not employed............................£50/year
Seniors....................................£65/year
Reduced rate Family Membership is available. A family must consist of at least three related members. One, but not more than two, must be a Senior member; and at least one must be from a younger age group. Each individual's appropriate fee is reduced by £20 for a Senior member and £15 for a younger member to produce the "Family Membership" fee.
Here a "year" means the year from 1st April 2023 to 31st March 2024. All athletes are expected to register with England Athletics through the Club.
Applying to become a member is as simple as downloading (Green Button) and completing the membership form.
On Completion, along with your membership fee, you can either :
Bring it to one of our training sessions and hand it to one of our Club Officials
Alternatively post to: SUNDERLAND HARRIERS,
SILKSWORTH SPORTS COMPLEX,
Silksworth,
SR3 1PD,
United Kingdom