Becoming a Member
Sunderland Harriers are a club that welcomes people of all ages of nine years old or older; in some cases much older; of all abilities and gender. We have a proud history of athletic excellence but we are not an elitist club. Whichever branch of athletics you wish to join you will train with a group of people of equal ability. Everyone is encouraged to find their own level but no one is left to fend for themselves.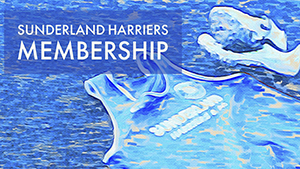 As a member you can join us at the Sunderland Sports Complex athletics track on Tuesday and Thursday evenings and Sunday mornings. At the same times the distance groups can set their feet on the pathways of Sunderland or favourite local cross country routes, led by experienced coaches. You will have the opportunity of competing in track and field, road, and cross country events throughout the year.
Younger members are coached in all aspects of athletics, but with equal emphasis on attitude, commitment, perseverance, and respect for others in a FUNdamental environment.
At this time we are all being encouraged to pursue a healthy life style. Join us at Sunderland Harriers, meet new people and make new friends while you improve your fitness for life.
How Much Will Membership Cost?
Under 20 years old..................£25/year
In full time education...............£25/year
Unemployed............................£25/year
Seniors....................................£35/year
Family membership................£70/year (2 adults with two related children)
Here a "year" means an "athletic year" from October to September of the following calendar year. Additionally everyone is encouraged to register with England Athletics (More Information) through Sunderland Harriers.
England Athletics Registration..................£15/year
Applying to become a member is as simple as downloading (Green Button Above) and completing the membership form.
On Completion You Can Either:
Bring it to one of our training sessions and hand it to one of our Club Officials
Alternatively post to: SUNDERLAND HARRIERS,
SILKSWORTH SPORTS COMPLEX,
Silksworth,
SR3 1PD,
United Kingdom